Method: How I Make ₦200,000+ Monthly As A Social Media Manager Using Owodaily
If you're struggling to earn money online and don't know where to begin you've come to the right place. Well, before arriving to this thread you had to have been on OwoDaily so you were already at the right place to learn!
Let's get to it!
You may have seen me as the no. 2 digital marketing expert on owodaily. This is because I post a lot of jobs (mostly social media related as they are easy to sell). I am going to share with you how using OwoDaily I have been making ₦250,000+ every month since July this year using OwoDaily as a Social Media manager and I will be sharing with you how it started.
I used to do social media management but because of Facebook issues when boosting ads and the rise in dollars rates it because really hard managing my client's posts and I couldn't get more because of how stressful Facebook can be sometimes, I tried using likes.ng, but it was not fast and the comments were terrible and my client use to complain a lot, because they don't like receiving emoji comments. However, after getting started with OwoDaily things became a whole lot easier. I am even working on starting my own mini social media agency with an office soon. This is because hiring workers on owodaily is faster and cheaper for me as a social media manager and I now resell services very fast.
For example, if I see any Instagram user running ads to their post, I simply quickly send a message like
"Good Day,
I see you are running ads, I wish to tell you I can offer you real Nigerian followers and engagement on your Instagram post, which will cost you much less than what you are currently paying for ads. If you will be interested in such a service, we could do a test run for you to see the quality of what I am offering to you. "
I try to message as many as I can daily, all I need is about 4-5 orders to make 10k in a day. When you get started it might people might not believe you instantly but because of how confident I am knowing that I can pay workers on owodaily to deliver the job I ask them to just give it a try and the truth is they are always amazed by the results because no one can offer them the same,
I will recommend making a custom Instagram page for this and acting as a digital marketing agency, feel free to call your clients and sell them the idea.
So If it cost me ₦1200 for 100 members on OwoDaily to engage a clients post. I can easily charge ₦2,500 or ₦3000. If I do this 4 times daily that is over ₦5,000 in profit alone, then multiply this by 30 is over ₦200,000+ every single month.
You can charge higher but I will recommend you grow yourself first and get s many clients as you can. Here are the methods that work the most for getting clients
If you see any Instagram ad, message them instantly (this is because since they are paying Instagram for promo, they will be willing to grow their engagement already.
Run ads and sell these services (if you do this, you can get from 5 orders daily, depending on your ad spend)
You can post publicly on forums and groups with a direct chat link to your WhatsApp so people who are ready to buy followers can contact you directly.
What do you need for this method
Instagram Account (Social Media Manager Profile)
OwoDaily Membership Account
When you start making money using methods 1 and 3 above, you can start running ads.

Yes, it can be time-consuming doing that by hand, but you will find the small businesses and influencers are easier to sell to. when you become a full pro, you can create a website and make thousands of dollars monthly like skillpatron that make ₦7 profit for every follower he sells, and they sell thousands every single month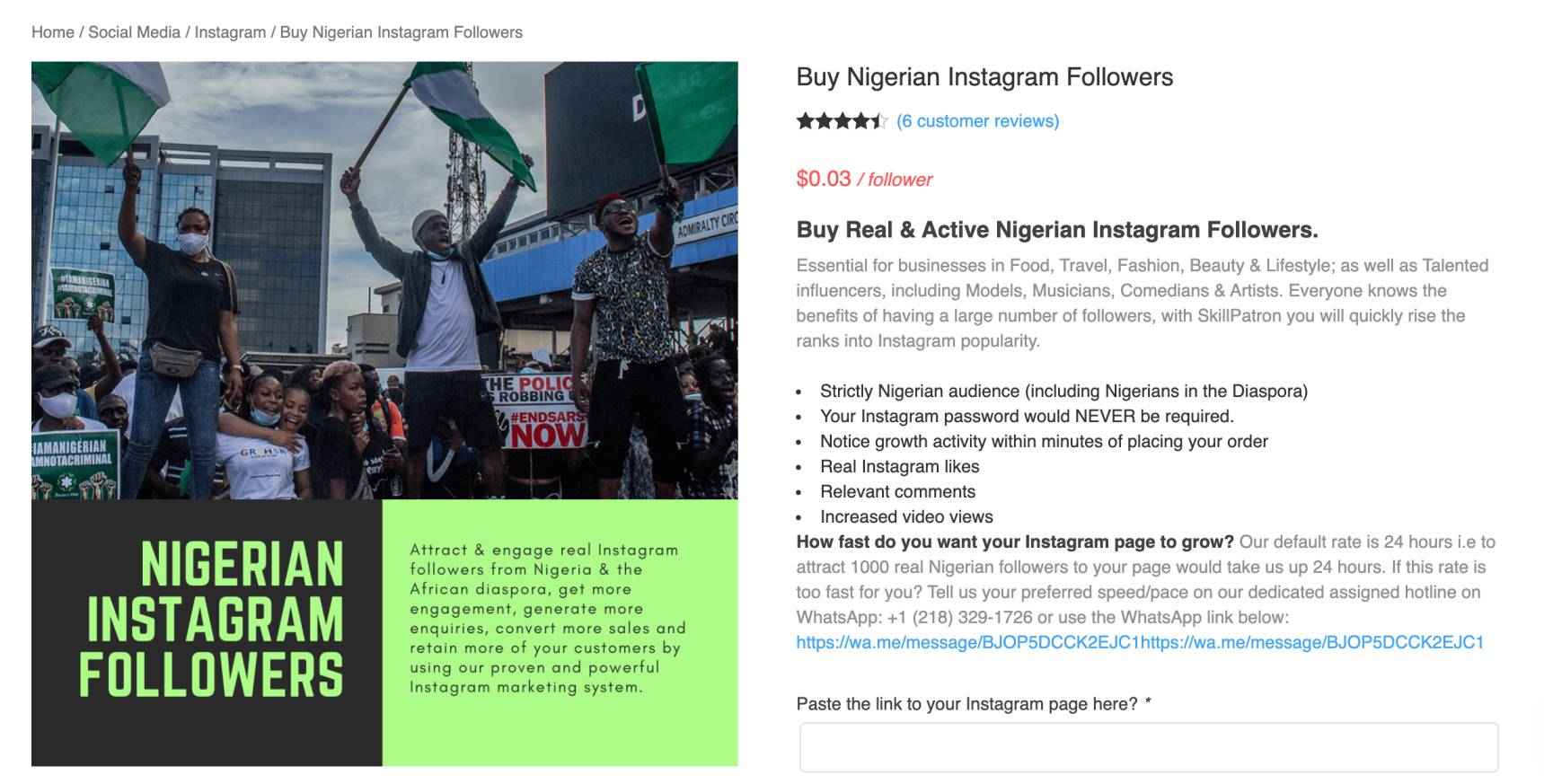 If you have any questions or need help on how you can do this, please drop a message below, i will answer as best as i can
---
Related Topics
Villagers
Replies
Views