10 Reasons To Prove That The Bishops That Attended The Unveiling Of The Apc Vice Presidential Candidate Are 'fake'
As a minister of the Gospel of Jesus Christ, who is set for the defence of the Gospel, I cannot see the Church of Jesus Christ dragged to the mud.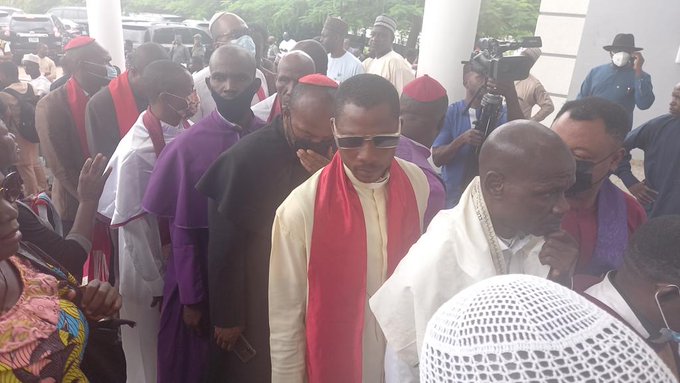 Having done a careful analyses, I can emphatically affirm that the 'Bishops' that attended the unveiling and presentation of the vice presidential candidate of the APC were not Bishops after all but impostors.
The following are reasons to prove that they are 'fake Bishops':
1) None of the Bishops have been recognized by the vast populations of Christians in the nation. With that large number of Bishops, not one has been recognized to be a Bishop. A Bishop is a high Christian office and immediately one becomes a Bishop, he gains a level of popularity.
2) No Bishop is self ordained. To be a Bishop, you must be consecrated by a denomination, like Roman Catholic Church, Anglican Church or Methodist Church or better still, you must be consecrated by a College of Bishops or Council of Bishops. In the true sense, nobody can be consecrated a Bishop by even one man. It must be by a College or by a denomination, even though one man may serve as the chief consecrator. Who consecrated these bishops?
3) Bishops are trained to maintain high level of comportment but these paraded fake bishops did not have any level of comportment, from the way they walked and did other things as seen in the videos trending online.
4) No Bishop attends any public event without proper protocol put in place to receive him but in this case, a vast number of Bishops attended a well publicized event without any seating arrangement made for them neither were they properly recognized. From pictures and videos sighted online, almost all of them were standing throughout the event.
5) Bishops are always very neat in appearance as their high office demands that. In this case, almost all the bishops in the trending pictures and videos wore unironed robes.
6) Bishops appear in public for public event with dignity, pomp and pageantry to depict their noble office. However, in this case, they were all crammed together like secondary School children and not one of them could be seen with his personal assistant or armour bearer.
7) Not one of the alleged Bishops accepted to talk to the press. A lot were covering their faces. Some pulled up their face masks to cover a large portion of their faces, others covered their faces with their palms or with bags and walked passed the camera. This action shows that something is fishy.
8) They were not properly introduced during the event. Bishops are always recognized and introduced in public events.
9) A lot of the fake Bishops paraded were adorned in strange robes. For instance, one was seen wearing a Roman Catholic priestly robe, whereas that particular attire is only adorned by a priest in the temple when celebrating mass and not in the public.
10) Almost all the bishops were with bags, some were even with school bags. Bishops don't carry School bags around. Bishops carry some small bags to put their Bibles and books. Besides, most bishops go to public events with their aides, who carry those things for them.
It is questionable that all were bishops in particular. In a Bishops College, you are likely to find Archbishops, Bishops, Bishops elect, and even Apostles.
Conclusion
Every profession has its mode of operation. From all operating standards of the bishopric, these 'bishops' are impostors and fraudsters, they are not Bishops at all.
In a response, the organizers say they are upcoming Bishops. There is nothing like 'upcoming Bishop'. The bishopric is a high ecclesiastical office and not for neophytes, newbies or novices.
It is politics taken too far.
It is blasphemous and sacrilegious.
By : Mfon Udoema
---
Related Topics
Villagers
Replies
Views